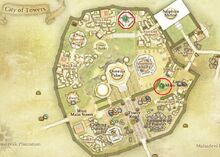 Quest
Location: City of Towers, Mahadevi, Haranya
Text: A scrawled note is attached to the inside of the boxes lid, listing three pieces of an unknown sculpture. Find the sculpture's head, torso, and base hidden in City of Towers and restore the Salphira Sculpture.
Rewards:
XP 1140
Coins 4s 17c
Suggestions: There are three parts to collect. One part is in the north east tower on the map. Two parts are located in the south east tower on the map. Even when you have all three parts, the quest does not advance. Open your inventory and right click on one of the parts to assemble them (Restore goddess sculpture). The quest will then advance to show you where to deliver the restored sculpture.
Ad blocker interference detected!
Wikia is a free-to-use site that makes money from advertising. We have a modified experience for viewers using ad blockers

Wikia is not accessible if you've made further modifications. Remove the custom ad blocker rule(s) and the page will load as expected.